INTRODUCING THE ALL-NEW PILOT JUICE UP GEL POKÉMON PENS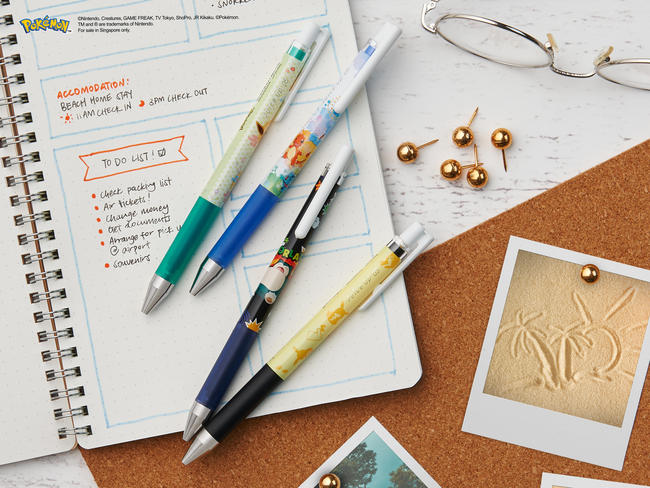 The Pilot Juice Up Gel Pokémon Pens are only available in Singapore and fans can choose from various Pokémon including Pikachu, Eevee, Snorlax as well as the first partner Pokémon in the Kanto Region such as Bulbasaur, Charmander and Squirtle. Bringing the Pokémon world even closer to fans, each pen barrel features Pokémon in a variety of eye-catching designs.
Pilot Pen is highly regarded for creating writing instruments that produce effortless writing. The Pilot Juice Up Gel Pokémon Pens are no different. The pens in this series come with the Juice Up Gel special nib known as the synergy tip, ensuring a smooth writing experience with the synergy between a Pipe Tip that supports smooth rolling of the ball and a Cone Tip that allows for an increased ink capacity to output a steady flow of ink.
The rubber grips on each of the pens are also cleverly designed to represent the different ink colours available – Black, Green, Blue and Navy Blue. The series is available in nib size 0.5mm – a tip perfect for writing and journaling.
From the irresistible Pokémon designs to the amazing writing experience, this is truly a great addition to the collection for all avid stationery and Pokémon lovers.
The new Pilot Juice Up Gel Pokémon Pens retail at S$4.95 (including GST) each and are available from July 2022 at all leading bookstores in Singapore.