Omnidesk presents The Pokémon Desk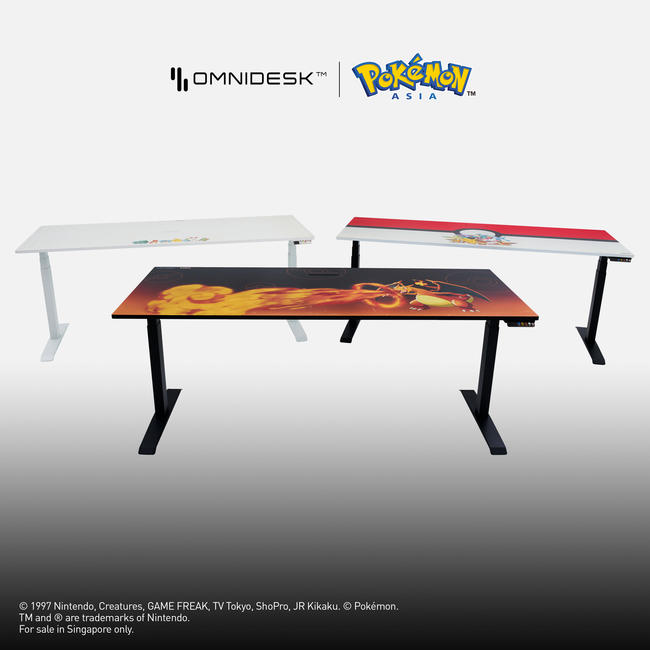 Introducing The Pokémon Collection by Omnidesk. The home-grown, leading standing desk company Omnidesk is launching a series of Pokémon desks. The Pokémon Desks by Omnidesk are the latest additions to OMNIDESK™ PRO 2020, the company's flagship premium electric standing desk series.

First launched and available from 11th December in Singapore, the Pokémon collection by Omnidesk offers three statement-making ergonomic desk models to equip aspiring Pokémon trainers, popular culture enthusiasts, and working professionals. "The Pokémon Collection by Omnidesk brings together some of the world's best-loved Pokémon with our line of Omnidesk Products. "This is the start of more exciting announcements to come, and we look forward to presenting more trend-setting products to customers in Singapore and the region," said Benjamin Huang, Omnidesk's Managing Director.

The release of this collection aligns with Omnidesk's strategy to expand its offerings of innovative products that cater to contemporary workspaces and home offices alike. "We are seeing a sharp increase in sales, and expect this to continue, as more companies allow their staff to work from home in the future. Even those who are back in their offices are starting to realise the importance of ergonomics on workplace performance," added Benjamin.

The OMNIDESK™ PRO 2020 – the Pokémon Desks by Omnidesk
Injecting a sense of adventure and camaraderie into your workspace, the Pokémon Desks by Omnidesk blends stylish aesthetics with top-of-the-line customisable functionality. Each desk comes with meticulously-crafted designs, from the table-top to its accessories.


The Evolution

Striking yet classic, the Pokémon Evolution table showcases the iconic Pikachu, as well as the well-loved Eevee and its eight evolutions on a red and white, Poké Ball-inspired table-top design. Poké Ball motifs decorate the desk's black legs and Cable Management Bar.


The Classic

Wave a warm welcome to Pikachu and the starter Pokémon from the Kanto and Galar region on the elegantly classy Classic. The pure white tabletop, desk legs and Cable Management Bar are lightly adorned with Poké Ball motifs in light grey.


The Icon

Pay homage to everyone's favourite fire-type Pokémon, Charizard! The Icon desk brings to life the majestic power of the evolved form of Charmander, one of the first starter Pokémon. Shades of vibrant orange and black make this desk an instant centerpiece in any home office or workplace, while the Poké Ball motifs on the black desk legs exude understated luxe with a touch of whimsy.