Pokemon themed jewelry accessories are now available from "U-TREASURE", a Japanese brand of authentic character jewelry products for adults!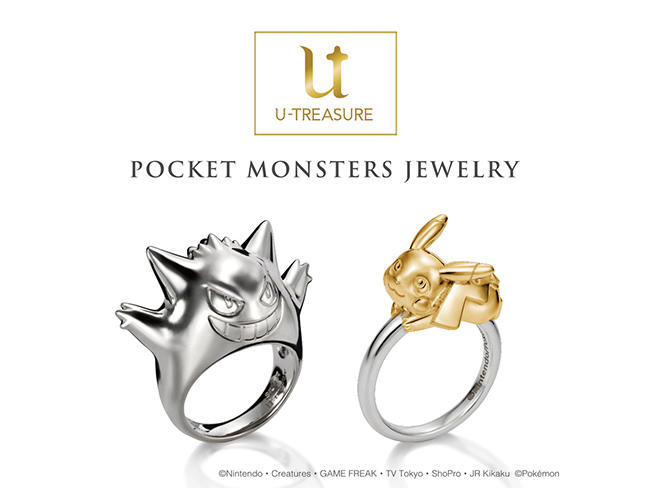 "U-TREASURE" has an established reputation for its power of expression and has produced a large number of products. They're items that Pokemon fans cannot miss!

◆ Bridal rings
For people who love Pokemon, here are bridal rings that we recommend to express how you feel!

・Pikachu solitaire and paired rings
Pikachu's trademark yellow is represented by 18 carat gold. An engagement ring where a male and female Pikachu with different tail shapes appear to sandwich a diamond. The wedding ring has as its design feature the overlapping Pikachu and the embossed heart! A design that will make you want to show it off.

・Espeon & Umbreon solitaire ring, Eevee evolution paired ring
An engagement ring with Espeon & Umbreon standing in front of a gem. Start this new life that is about to begin together with Pokemon. The ring is designed so there is a flow of Eevee's silhouette and the motif of the evolution type (fire, water, grass, light, ice, psychic, dark, fairy). It enhances the wearer's personality and is filled with the wish for continued evolution.

◆ Fashion jewelry
Rings, necklaces and earrings that add color to everyday outfits are here!

・Venusaur, Charizard, Blastoise rings
These items that look like they could start moving any minute are the powerful jewelry that fans have been waiting for. The rings, with impressive three-dimensional sense and volume, have exciting designs that lure you into the Pokemon world from just looking at them.

・Mew, Espeon, Umbreon & Pokeball necklaces, earrings
A cute design with a Pokemon perched on top of a Pokeball. Each ring has a natural stone encrusted according to its Pokemon's theme color. It shines with every move, emitting a strong presence. (Mew: diamond, Espeon: amethyst, Umbreon: moonstone). It's a size that can be worn discreetly, so it also has the appeal of being easily incorporated in different kinds of style.

Who are U-TREASURE
U-TREASURE is brand that produces authentic character jewelry and goods for adults. They create pieces that not only reproduce the characters faithfully, but also combine functionality and beauty, putting thought into every small detail. It realizes the wish of customers who want to "collect character jewelry that can be discreetly shown off", to "elegantly wear playful pieces, even as an adult".